---
Microchrondial DNA
Mitochrondial DNA (mtDN) is used to determinine your mother's mother's ... mother's maternal ancestry. It is not as useful in genealogical research, as tracking of relationships is confounded by the constant surname changing with each generation.However, there is some likelihood that mtDNA could help in identifying companion/allied families who traveled with the male ancestors as they wandered away from the ancestral lands. Most Surname DNA Projects welcome mtDNA test takers into the project, to include them in the research and to keep them updated on the project. The mtDNA test results are not tracked nor posted on the project's website. For more information, see the mtDNA Haplogroup Projects page.
The standard mtDNA (HVR1) test is sufficient for information about one's deep ancestry (1000s and 10,000s of years ago). While this reference is far from authoritative, it is still an enlightening account about our shared maternal ancestry -- The Seven Daughters of Eve, W. W. Norton & Company, New York; 2001 (ISBN 0-393-02018-5). The author, Bryan Sykes, presents the theory of human mitochondrial genetics to a general audience. Sykes explains the principles of genetics and human evolution, the particularities of mitochondrial DNA, and analyses of ancient DNA to genetically link modern humans to prehistoric ancestors.
Genetic research indicates that the earliest maternal ancestress of homo sapiens originated in Africa many thousands of years ago.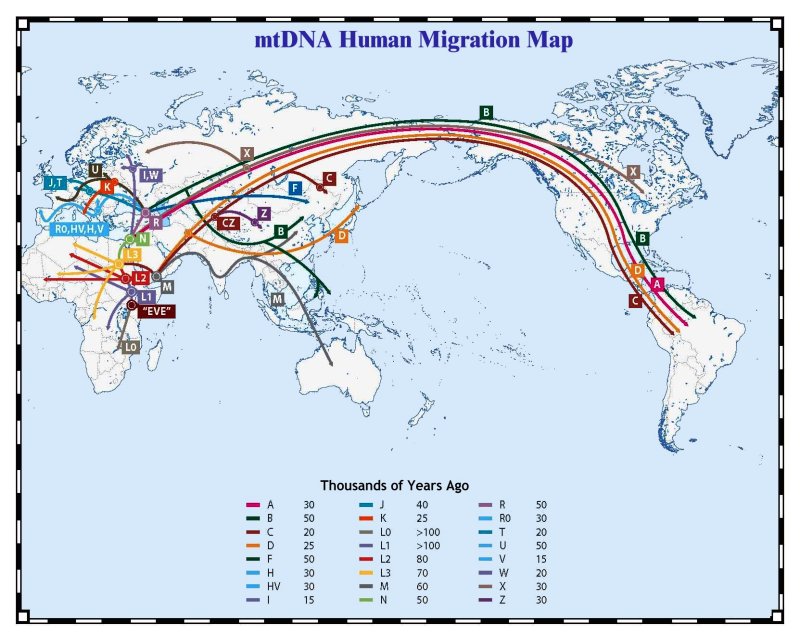 A mtDNA test result to confirm a maternal ancestry (you and another person share a common maternal ancestor) may benefit from a mtDNA Plus test. (This test is sometimes called HVR1 + HVR2).
To test an entire mtDNA sequence, then y the mtDNA Full Sequence test is necessary. (FTDNA calls this test "Mega") FTDNA suggests this for anyone who doesn't wish to be upgrading when they need more info – as this provides the entire DNA sequence.
Click here to place an order for a DNA test at Family Tree DNA
Page last updated December 19, 2013
---
Groups: